All About Sam
Written by Lois Lowry
Reviewed by Amelia G. (age 9)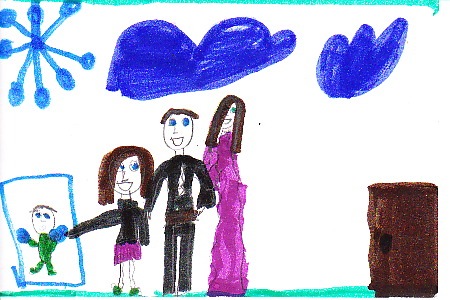 Do you have a younger brother or sister? If you do, you should consider reading this book. In this book there is a silly little boy named Sam that really doesn't get the world and does silly things. Sam's sister, mom and dad don't really get him either. By the end of the book, Sam gets the world because he has grown up. Even though he's grown up he still chooses to do bad things. For example, Sam throws fits and makes a disaster of his room by throwing toys EVERYWHERE!
My favorite part is when Sam's mom and dad told him that the water that flushes down the toilet goes into the ocean. The clouds then suck in that water and it comes down when it rains. So, Sam thought if he flushed a watch down the toilet it would rain watches! But, as you may have guessed, it didn't. The toilet just got plugged! I also thought that this book was very entertaining, Sam does so many crazy things that it makes me want to read more. I think that older sisters and brothers that read this book will be grateful for the siblings that they have after reading about Sam! I know I am! How about you?
I recommend this book to older sisters or older brothers that think their younger sibling is trouble. They will be able to relate to what it feels like to have a younger brother or sister that acts a little crazy! People who do not have younger siblings may enjoy reading this book too because they will be happy they are an only child!