Naughty Little Monkeys
Written by Jim Aylesworth
Illustrated by Henry Cole
Reviewed by Velia E. (age 9)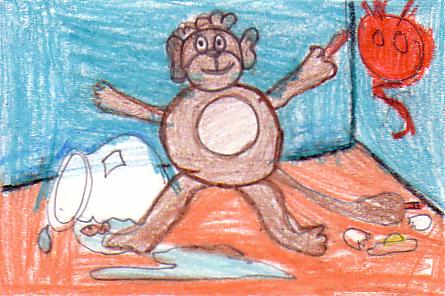 The story is about 26 monkeys that are brothers and sisters. Their parents go out for the night. They leave the kids at home alone. Every page of the book uses a different letter of the alphabet to tell what each monkey did that was naughty. These monkeys are very, very bad. They jump on the beds. They are even worse than anybody I know. They think of naughty things to do that I would have never thought about.
My favorite part of the book is when one monkey gets his mother's lipstick and writes all over the walls. That was the L page. The book's pictures show a lot of naughty things the monkeys are doing that the words only hint at. It is like a treasure hunt looking for all the misbehaviors of the monkey kids.
This would be a great book for kids and adults of all ages. Little kids can learn the alphabet. Bigger kids can laugh as they read. Adults can enjoy it too.