The Library
Written by Sarah Stewart
Illustrated by David Small
Reviewed by Ana A. (age 8)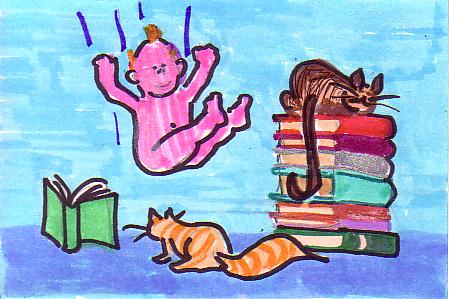 The book is about a girl named Elizabeth Brown. The book starts out when she was a baby and continues until she is old. All her life she likes to read, read, and read. When she was a kid she didn't play with dolls or roller skate. She just read a lot. When she was a teenager she didn't go on dates. She just read a lot. When she was an old lady she read all the time. Finally, she had so many books she couldn't find her front door. So she gave all her thousands of books and her house away to her town so it could be a library.
My favorite part of the book was when Elizabeth was a new baby and she fell out of the sky with no pampers on. That picture was so funny. I also liked that the book had a lot of rhyming words. That made the story fun to read.
I think that all kids would like to read this story. It had many new words and the pictures were fun to look at too.