Duck on a Bike
Written by David Shannon
Reviewed by Lynette F. (age 9)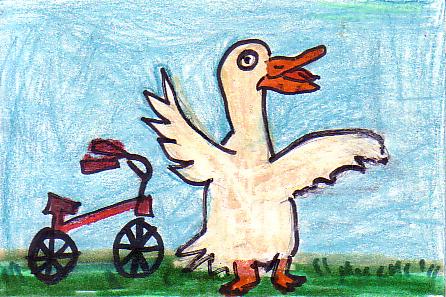 The book was about a duck. The duck found a bike and had a wild idea. He climbed on the bike and started to ride it. He was wobbly at first because he never rode a bike before. He passes by many animals on his ride. He passed a cow, a dog, a cat, a duck, a horse, a chicken, a goat, a pig, a sheep, and a mouse. He said hello to all the animals. All the animals had something to tell the duck. The silly goat wanted to eat the bike. The duck had a great time riding the bike and talking to all the animals.
I liked the book because it was silly. The animals all said funny, and strange things to the duck. I had a fun time reading this story to my mother. My favorite part was when the goat wanted to eat the bike.
I think that kids that like to smile and laugh would like to read this book. The pictures are silly and the story is a lot of fun to read. It is a great book to pair share with someone. They could look at the silly pictures when you read the words.