Madeline's Rescue
Written by Ludwig Bemelmans
Illustrated by Ludwig Bemelmans
Reviewed by Jennifer S. (age 8)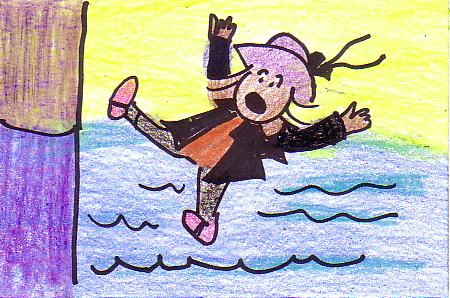 The story is about a girl named Madeline who lives in Paris, France with 12 other girls. Madeline falls into a river and a strange dog saves her. The dog comes to live with all the girls. They name the dog Genevieve. Genevieve is a smart dog and can do many amazing things. The dog even goes to school with them. But the girls are not allowed to keep the dog and they make her go away. All the girls are very sad. They went all over the city looking for their missing dog. Genevieve suddenly appeared again and the girls were happy. Next, all the girls were having a hard time deciding which girl got to sleep with the dog in their bed. The girls were warned that they might have to give up the dog again unless there were no more fights over her. There is a wonderful ending to the story that makes everyone very happy.
I liked this story very much because it is about a dog and a lot of puppies. The story is about an adventure too. All the girls are searching all over a big city for their lost dog. The story also tells about getting along with others. It makes you think that when you are part of a group you have to think about others not just yourself. Madeline and the other girls had to learn to share so they all could be happy. But the best part of the story for me was that it had a great surprise ending.
I would recommend this book to children that like Madeline books. Also, this book would be good for kids who like dogs. Anyone that likes a good story should read this book.