The Summer of the Monkeys
Written by Wilson Rawls
Reviewed by Ryan G. (age 10)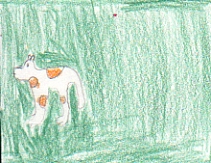 It was in the 1800's. Jay Berry's Grandpa was a storekeeper and trader. He had traded with an Indian for 60 acres of land and he gave it to Jay's family. They were pleased and set out for Oklahoma. One day, when he went down to the bottoms to find their cow, he saw some monkeys! He was scared half to death. He had never seen a monkey before. He ran to Papa. Papa said it probably belonged a rich fisherman. He went to his Grandpa's store to find out about the monkeys. He found out that the monkeys were from a circus train that had been wrecked. The monkeys ran through the hills. He said there might be thirty of them. Twenty-nine of them were worth $2 dollars each. The last one was worth $100!! That's a total of $158. Jay Berry has been waiting a long time for a pony and .22 and he was going to use the money to buy them. He needs to catch the monkeys alive! Grandpa has an idea. They would make traps to catch the monkeys. Would his plan work? Will he and Grandpa succeed or will they have to come up with another idea? Will these new plans work or will they fail? Read "Summer of the Monkeys" to find out.
My favorite part is when the monkeys get Jay drunk. He tries to be friends with the monkeys. The monkeys want him to drink from some sour mash that they found in the bottoms. The monkeys trick Jay Berry and Rowdy. Jay Berry wakes up and finds that his trousers are missing. This part was really funny.
Jay's dog (Rowdy) reminds me of my dog, Butch. He barks at a lot of stuff--just like Rowdy. Butch barks so much Mom thinks he barks at his shadow.
I found Jay's sister, Daisy, most interesting. She has a crippled leg. She is hoping to find a cure for it. Jay's family reminds me of my family. My brothers are just like Daisy is to Jay sometime--real pests.
I recommend this book to everyone because it has a lot of funny parts. I recommend it to people who like happy endings. Interested readers will love to read about all the plans to catch the monkeys. I guarantee that you will not want to put this book down.