Throwing Smoke
Written by Bruce Brooks
Reviewed by Luke H. (age 10)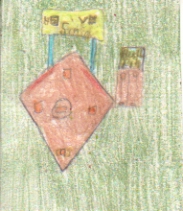 "Throwing Smoke" is a story about baseball. The team's name is Breadhurst Newts. The players' names are E6, Ace, Whiz, Dragon, Phoebe, Delancey, Barney, Wren, Josiah, Diana, Louie, Max, Marty, Eddie, and Vincent. They are not a very good team. This book tells how they begin to win. There are a lot of changes that take place during this book. To find out how they begin to win and how they begin to get along, read "Throwing Smoke".
This book reminds me of myself playing baseball with my friends. We have a lot of fun and sometimes our games are as close as the game in the story. I like this book because I'm a baseball freak. I live for baseball just like the kids in this book.
I like the characters in this book because most of them have weird names like E6, and Whiz, and Dragon. One of our basketball players on my team is named is Nay. I think that is a weird name, too. This book is in a series of books about sports.
I think everybody who likes sports should read this book. I liked it a lot and I think you will also. It made me feel good and made me remember a lot of good times in my life. I think baseball fans will like this book a lot.