Junie B. Jones and the Yucky Blucky Fruitcake
Written by Barbara Park
Illustrated by Denise Brunkus
Reviewed by Morgan L. (age 9)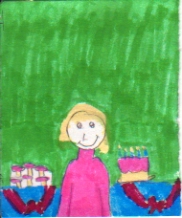 Junie B. Jones is a wild and crazy kindergartner. Junie B. often gets a lot of trouble. She has a younger brother that she get alone with. His name is Ollie. She has two good friends named Grace and Lucille.
In this book Junie B. is having a cakewalk at her school carnival. There are lots of other games there too. Junie B. thought that a cakewalk was when you walked on a cake. When she learned how to play, she won. She picked the fruitcake because she liked fruit. She brought it home and found out it was gross. So she found a different use for it. She used it for a booster seat. Junie B. is one crazy girl. To find out about more of Junie B.'s adventures, read this book.
I liked this book because some of the parts really made me laugh. The way she talks and some of the things she does made me giggle while I was reading. It was funny that she thought that a cakewalk was when you walked on a cake.
Junie B Jones was my favorite character. She was the main character in the story and I liked her because she is very funny girl who always gets into trouble. She doesn't try to but she still finds trouble wherever she goes. Nothing is simple for Junie B.. She is very clever also. She made a booster seat out of fruit cake.
This book is just one of many books about Junie B. Jones. Each book has a different adventure about Junie B. Each book has the same characters in it but it tells a different story each time.
I have also read lots of Franny K. Stein stories which remind me of the Junie B. Jones series. In the Franny K. Stein books, Franny is a young girl about the same age as Junie B. who also finds trouble wherever she goes.
I would recommend Junie B. Jones And The Yucky Blucky Fruitcake because it is a funny story that keeps your attention until the end of the book. If you like a funny story you will like this book too. This book is an easy book to read and has funny pictures. You will enjoy this book. .