Strider
Written by Beverly Cleary
Illustrated by Paul O. Zelingsky
Reviewed by James S. (age 10)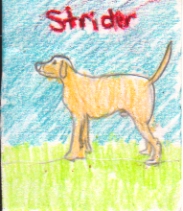 Leigh and his friend Barry went to the beach. They were walking around when they noticed a dog. They went up to the dog and they wanted to play with it, but it did not want to play with them. When they were sitting on the beach, they remembered when Leigh's dad took them to the movies. They watched a movie where these people were running along the ocean. Barry and Leigh ran along the ocean. After they started to run, the dog started to run with them. When they stopped running the dog sat right back down where he was sitting. The next day Leigh and Barry brought the dog some food and water. They brought him home. They decided to share him--half and half.
The next day Leigh ran with Strider (the dog). One day Leigh went to the laundromat to do the laundry. When Leigh was waiting he went to the store next door. He bought a weird shirt and a pocket book. He was reading his book when a girl with red hair came in.
When school started Leigh wore his funky shirt. He met a boy named Kevin. Kevin said that the funky shirt was his. Every morning when Leigh wore that shirt Kevin would chase him.
Barry went out for football. Later in the school year one of Leigh's classmates went out for track. The first time she ran she knocked down all the hurtles but when she was done she put them back up. When Leigh saw it he went out for track. To find out what happens next read "Strider". You'll love it!
I think this is a really good book. I like stories about dogs and Leigh has a dog. He also has good friends. I liked it because it made me feel really happy.
My favorite part is where Leigh's dad came and helped Leigh build a fence for Strider. I liked it too because it has a part with Leigh's dad in it.I found Leigh interesting because he is always doing something fun or going to his friends house after school.
There is another book in the series. It is called "Dear Mr. Henshaw". They are similar. This book tels more about Leigh as he gets older.
I recommend this book to 3rd-6th graders. I think all the kids want to read a book where a boy finds a dog. They would love it just as much as I loved it. The story shows how hard it is to share a dog.