The Miracle on Maple Hill
Written by Virginia Sorensen
Illustrated by Beth and Joe Krush
Reviewed by Kristina (age 10)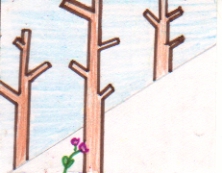 Marly's father was in the Korean War. When he came home, he was sick and tired. Marly's family was happy he was home. But they were worried about him. Marly's mother wanted to take her family back home to Maple Hill. She wanted to have her family see the miracles that happened there. The miracles that were happening in nature were healing for her family. To find out about the miracles, read the book.
A little girl named Marly is a lot like me. She has a brother, and I do, too. Marly loves to go exploring. I like to go exploring and to go for walks, too. Marly is a good sport. I am too. Marly is always willing to help. So am I.
I liked the book because it is an interesting book. Marly's mom told her there are miracles on Maple Hill. She talked about them when Marly's mom was little on Maple Hill.
The person I found interesting was Mr. Chris. He seems like a nice guy because he is always willing to help. He always treats people fair. When Marly was on the horse wagon, he let Joe and everyone else get on. He said that he would help them unpack and make supper if his wife was too tired. He is always ready.
The story Miracles on Maple Hill is illustrated by Beth and Joe Krush. They did black and white pictures for the story. The front cover is in color. The cover has Marly on top of Maple Hill. It is a Newbery book.
I recommend this book to 2nd, 3rd, 4th, and 5th graders. This book is good to read with your family. This story could be a true story. It is a good one.