Dear Mr. Henshaw
Written by Beverly Cleary
Reviewed by Lindsey H. (age 10)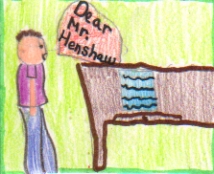 Dear Mr. Henshaw is about Leigh Botts and his mom. Leigh's parents are divorced and Leigh is upset.Leigh has some problems at school. He has no friends and a thief is stealing his lunch box. The T.V. is broken at Leigh's house. His mom won't fix it because she thinks it is rotting Leigh's brain. So instead Leigh writes to an author named Mr. Henshaw. He is Leigh's favorite author. He tells Mr. Henshaw everything that is going on in his life.
Leigh has one dream to be on his dad's truck with him. Leigh also misses Bandit, his dog. His dad keeps him so when he is driving he won't fall asleep. Will Leigh catch the thief, will the alarm work, or will Leigh ever see his dad again? You can read the book and find out.
The unique thing about this book is the love Leigh's mom has over him. His mom was always there for him, and when Leigh asked questions she gave him sensible answers. Like when Leigh asked his mom "How do you build a lunch box alarm?" she said, "Stretch your mind and come up with different ways and find the best one."
This book is like #1 of the Boxcar Children series because the characters are longing for family like Leigh is longing for his dad and Bandit. Leigh got a call from his dad that he lost Bandit. Leigh was missing him badly.
The end of the book was pretty sad. It was the touching when Leigh's dad asked his mom if they still had a chance.
This story reminded me when my parents went on big trips and I was longing for them to come home. This is the feeling Leigh had when he thought about his dad. Soon Leigh learns from his mother that they won't come back together.
I recommend this book for kids that have parents that are divorced because it may help you understand why your parents made this decision.
Kids of all ages would like this book--especially 4th-6th graders. Leigh is in 4th grade at the beginning of the book and in 6th grade at the end of the book.This story will interest readers that like stories about real life situations What really encouraged me is that you have to live the life you got if in a mansion or a box.