The Summer of the Monkeys
Written by Wilson Rawls
Reviewed by Amanda H. (age 10)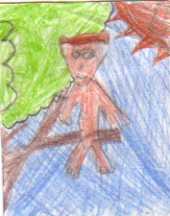 Jay Berry and his family moved to the Cherokee bottoms when he was little. He had a sister Daisy and a dog Rowdy. They built a house by their Grandma and Grandpa's place. When Jay Berry grew up to 16 they had a nice farm and Daisy had a play house on a hill. One day their cow Sally Gooden got out. Jay went to look for her down in the bottoms. That is when he found the monkeys.
His Dad said they belonged to some fishermen. They really belonged to the circus. His Grandpa said they were offering a big reward for them. Jay Berry asked if he could try to catch them. They had to be caught alive and not harmed in anyway.
Jay's Grandpa helped him. They tried many things. One time when Jay Berry was trying to make friends with them, they got Jay and Rowdy drunk. If you want to know the rest you have to read it. There is a surprise ending.
This book has a lot of really funny parts in it. I enjoyed it when Jay Berry and Rowdy got attacked by monkeys. Another funny part is when the goose got caught in one of the traps.
My favorite part is when the monkeys got Jay and Rowdy drunk, Jay Berry was trying to make friends with Jimbo. Jimbo made Jay Berry and Rowdy eat some sour mash that they found in the bottoms. Jay Berry ended up losing his pants to the monkeys.
In this book Jay Berry reminded me of my friend, Raegan . She is always determined to do something and is never willing to give up. She always wants to get outside and explore things.
This book made me laugh out loud it was so exciting and funny. Jay Berry had a lot of funny adventures. Jay Berry also had a caring side. He wanted very much to help his crippled sister.
I recommend this book to somebody who likes a good laugh. I think kids and adults would like it. My teacher read it and she loved it. I hope you do to.