The Snake Scientist
Written by Sy Montgomery
Illustrated by Nic Bishop
Reviewed by Luke H. (age 10)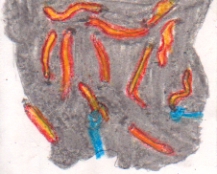 They usually go in packs, and their favorite food is tadpoles. Snakes, snakes and more snakes! This book is about many kinds of snakes. Workers catch them in Canada, put them in bags and ship them to New England to make sure that they are healthy. They measure them and weigh them and mark them. They go through many tests. Then they are sent back to Canada where they are released. Scientists study snakes because their bodies have some of the same organs that humans have. By studying the snake, it might be possible to find a cure for some human diseases. What do you know about snakes? What do you want to know about snakes? This book tells all about them. The author includes beautiful pictures. to learn more about snakes, read "The Snake Scientist."
I thought this book gave a lot of information on snakes. I like snakes and I am curious about how they live. This book also showed how studying snakes can help us to stay healthy. This book is special because it is a true story. It gives interesting, true facts about snakes. I felt I was there when they tested the snakes. After I read it, I found I had learned a lot about snakes that I did not know before.
I recommend this book to anyone who wants to learn about snakes. Anyone who likes to learn new things and read nonfiction books will like this book.