Sweet Corn and Sushi
Written by Lori Erickson
Illustrated by William Thomson
Reviewed by Ryan G. (age 10)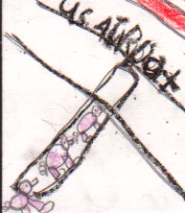 Yamanasi is a part of Japan. It has beautiful mountains and hill sides. In 1951 two powerful typhoons hit Japan. Much of the land around Yamanasi was destroyed. Iowa is a land in the middle of the United States. Many farmers grow corn. A farmer named Richard Thomas thought of a "hog lift". It was the idea of sending hogs to Yamanasi. Farmers donated 35 hogs and over 1 ton of corn for the hogs to eat on their way. In return for the hogs Yamanasi gave a bell to Iowa. It is in Des Moines. Then Iowa had a flood in in 1993. The people of Yamanasi sent hundreds of thousands of dollars to help the Iowans suffering from the flood.
This is a non fiction book. Lori Erickson is telling how Japan and United States helped each other in time of need. Read the book to find out how Japan and Iowa keep their friendship alive.
I like this book because this is a true story. Richard Thomas is helping people from Yamanasi after they had two typhoons. Reading this made me feel proud because I am from Iowa just like Richard Thomas.
My favorite part was when the people of Yamanasi helped us out after we had a flood in 1993. This told me that the people of Yamanasi really appreciated our help and were really our friends.
When I read this book, I was reminded that we all need help at one time or another. It makes me want to help others who need it.
I recommend this book to people who like true and stories about different countries. I think people from Iowa or Yamanasi would like reading about themselves. I did. It made me proud to be an Iowan.