The Hurricane Mystery
Written by Gertrude Chandler Warner
Reviewed by Lindsey H. (age 10)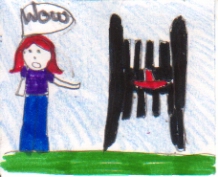 Henry, Jessie, Violet,and Benny Alden live with their grandfather. They go to a little island where their grandfather's friend lives to help her clean up from a hurricane. On the way to the island, the Aldens talk about the pirate's gate. The pirate's gate is a heavy gate made by Mrs. Ashleigh's great, great grandfather when he was a pirate. When the Aldens get to the island, grandfather's friend, Mrs. Ashleigh, had lost the pirate's gate. Nobody knows that there is gold in the pirate's gate except two people, Mike and Jackie, who tried to snatch it. They are working together to steal the gate. They need the money for their horse riding business. They hear another hurricane is going to hit. Will they be able to get the gate before the hurricane strikes, and will the Aldens help Mrs. Ashleigh find the gate her great, great grandfather made? Read the book and find out!
In this story there a girl named Jackie. At first she was kind and always shared things, but then she got selfish. She did some bad things. One of the bad things she did was stealing. A very unique part of this book is the pirates gate. It goes back when there were pirates and is where they kept their treasure.
This book is part of the Boxcar Children series. All the books are similar because they all have mysteries and the Alden's solve them all. This book made me wonder about what is going to happen next. I had so many guesses--some right and some wrong.
I definitely recommend this book because it is filled with adventure and excitement. The people that would like this book are people who like mysteries and excitement.