The Ghost of Windy Hill
Written by Clyde Robert Bulla
Illustrated by Don Bolognese
Reviewed by Heidi E. (age 10)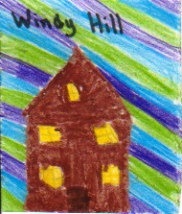 Mr. and Mrs. Giddings went to town one day to ask Professor Carver,Mrs. Carver, and their kids Jamie and Lorna to stay in their house. Mrs. Giddings thought there was a ghost in the house. Mr. Carver said, "No". Mrs. and Mr. Giddings went home that night terrified for what might happen. That night was fine. They returned the next day and asked again. They began to beg for Mr. Carver, his wife, and their kids to stay. Mr. Carver said, they would stay for one week. Mr. and Mrs. Giddings thanked them for everything Mr Carver was going to do for them. Mrs. Giddings told them how much it meant to her. They asked Mr. Carver if he sensed that anyone was there, would he stay for one month? Mr. Carver agreed. Mr. and Mrs. and Mr. Giddings took them to their house in Windy Hill. They were there for a few days. Nothing happened. Their kids seemed to enjoy it at Windy Hill. There wasn't anything scary there. One day Lorna got pieces of a quilt to sew together. She had a lot to sew. One night she worked on her quilt. She put it on her bed to sew. Then she started to get tired. Before she fell asleep she put the quilt on her chair. The next morning she woke up. Her quilt was gone. She told her parents. They said they didn't touch it. Her brother said he didn't either. They searched all the rooms. Finally her brother Jamie found it in another room. She wondered who had put it there. They thought Lorna was sleepwalking and put the quilt in the other room. To find out what Lorna does next and other surprises read the book.
This was a good book. It had a lot of weird things happen in it. My favorite part was when Lorna and Jamie saw a lady hiding behind a tree. It was funny that she was scared of two little kids. She said, "Good Morning" , then she ran away. This is like a "Goosebumps" book, but not as scary. I got more and more interested in this book as I read it. It made me wonder what would happen next.
I think people would like this book because of the characters in it, and what they do. For example, Lorna, when all the strange things happen at night with her quilt. Then there's Jamie. He tries to solve the mystery of the quilt.
If you like mystery books you would like this book.