The Very Hungry Caterpillar
Written by Eric Carle
Illustrated by Eric Carle
Reviewed by Jake M. (age 5)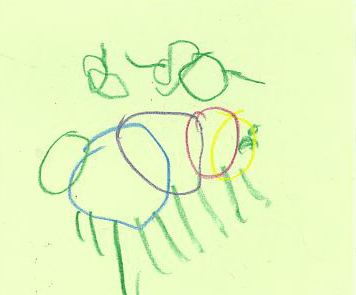 The caterpillar in this book eats and eats a lot and turns into a butterfly. This book made me think about how even bugs grow up.
I liked this book. I liked the part when the caterpillar ate fruit. I like to eat a lot of fruit too. The caterpillar felt bad when he ate a lot of junk food, but when he learned what food was good for him, he felt good eating that. When I eat junk food I don't feel so good, but when I eat food that's good for me I feel great. The pictures in this book are friendly; the sun is smiling.
Everybody should read this book, especially people who like caterpillars.
(This review was dictated.)