Berenstain Bears and the School Scandal Sheet
Written by Stan & Jan Berenstain
Reviewed by A.M. (age 9)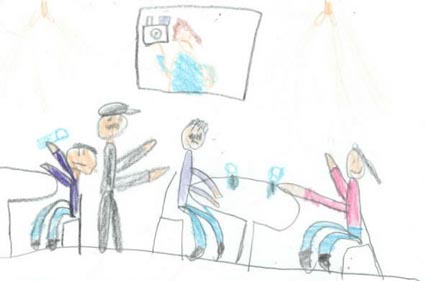 The Bernstein Bears and the School Scandal Sheet by Jan Bernstein is an exciting book! One day, brother bear got to write the school newspaper with Queenie and Fred. Brother was in charge of them. They were making an underground newspaper. Soon Queenie saw teacher Bob with a girl and she took a picture of them. The picture was published in the newspaper. The teachers read the newspaper and Bob got really mad because it was his niece. The bears got in trouble for accusing him of dating her. The bears had a week of detention for the big mix up. Will they be given another chance to write another newspaper?
This book is a wonderful book to read. The Bernstein Bears and The School Scandal Sheet has very funny parts. One is when Queenie said to write underground and brother didn't think you could do that. This book had a good solution in the story. The problem was when Queenie said teacher Bob was dating. The solution was to tell the truth so you don't get into trouble. At the end of this book, you learn a lesson which is to never lie because you can hurt people by telling information that is not true. You would love to read this book because it has funny parts, a good solution, and a good lessen to learn.
I would recommend this book to people who like to learn lessons. They learn things like telling the truth and not to ignore people. Also, I would recommend this book to people who are fans of Bernstein Bear books.