Corduroy's Halloween
Written by B. G. Hennessey
Illustrated by B.G. Hennessey
Reviewed by Michaela L (age 7)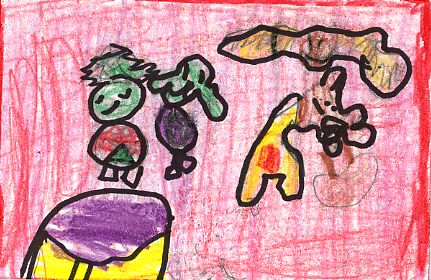 This story takes place in the fall and it's Halloween time. All the animals and Corduroy want to pick out pumpkins and bats to decorate. First they go to the pumpkins patch. Next, they go to the story to buy paper, flashlights, and goodies. Then comes the window-painting contest. They cover up the decorated windows with sheets and everyone wins. Now Corduroy and his friends dress in costumes and go trick or treating. When it's times for the party they take turns bobbing for apples, eat donuts, and drink cider, and have lots of fun.
This book is cool because each page has different flaps. The best flaps are when they dress up for Halloween. You can lift the flap and see who is underneath each costume. Corduroy is a ghost. The purple cat is really a monster. My favorite part is at the party because it would be lots of fun to bob for apples. I have read other Halloween stories but this one is great and fun for to read.
I recommend this story for kids of all ages because it is fun to lift each flap and see what is underneath. I think even my little brother would enjoy having it read to him. The characters are cute and fun and make the story enjoyable.