Dog's Day
Written by Jane Cabrera
Illustrated by Jane Cabrera
Reviewed by Jesse H. (age 6) & Jessica H. (age 7)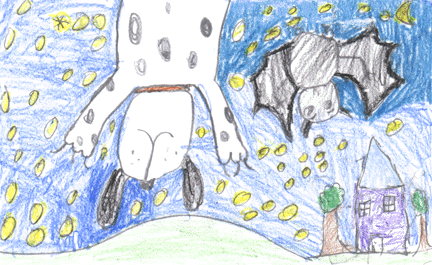 This is about a dog that did things with his friends. He changes colors with chameleon. He flies through the clouds with bird. He slithers along the ground with snake. He swims underwater with fish. He hops and jumps with rabbit. The pictures are painted. The end is a surprise!
We like the book because it was funny. One part that was funny was when the dog was flying. I like the part when the dog was hanging in the tree.
If you like to play with your friends you should read this book. If you like animals you would like this book.