Mouse at Night
Written by Nancy Christensen Hall
Illustrated by Buket Erdogan
Reviewed by Yaritza N. (age 6)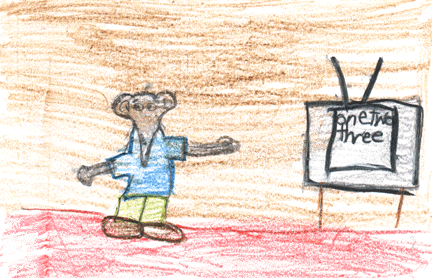 This book is about a mouse that came out in the night. He watches T.V. at night. He laughed when he saw the mouse chase the cat on T.V. He cooked breakfast for the Mrs. Bumbly. He was making orange juice and pancakes. He cleaned up the table so it could look nice for breakfast. When the clock rang he cleaned up because he didn't want Mrs. Bumbly to catch him and be mad. He brought pancakes into his little house. She woke up and said, "Is it breakfast time already?" The mouse is blue. The pictures are big. This book is different because it only has words in the beginning and the end.
I like the book because the mouse was helpful to the lady.
If you like to cook you should read this book. If you like to sneak around at night you would like this book. If you are looking for a book that doesn't have a lot of words then you will like this book.