Super Diaper Baby 2 And The Attack Of The Potty Snatchers
Written by Dave Pilkey
Reviewed by Carlos S. (age 9)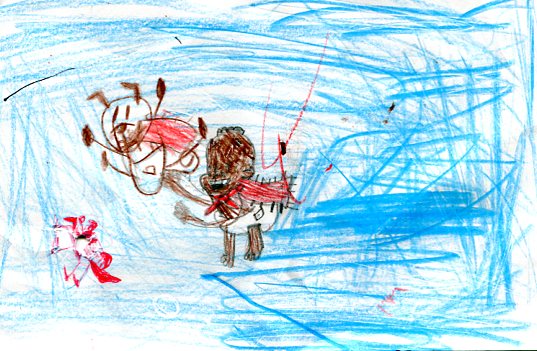 Do you like books about babies? This is not your ordinary story. This book is about an evil genius named Dr. Dilbert Dinkle who one day wakes up and has turned into Rip Van Tinkle. He has turned into a cloud full of pee and has vowed to destroy all the toilets in town. Can Super Diaper Baby and his faithful dog save the day? You will have to read this book to find out!!!
This series is one of my favorites. The writing is very funny and makes me laugh. My favorite part of the book is when Super Diaper Baby pours a whole jar of catnip into Petey's giant robot. Petey goes crazy because of this and the robot goes crazy, too! He even pulls off his head and starts bouncing it like a basketball. I have a personal connection because the main character in this story Dr. Dilbert Dinkle reminds me of the Grinch. He is mean and lives on top of a mountain just like the Grinch.
This story teaches you to care about others. It is a comic book. The story is funny and I like the Diaper baby because he is smart. Actually, I like everything in this book, including pictures. This book is fun to read and I think that other people should read it because the baby is flying and it will entertain the readers.