Ghosts
Written by Raina Telgemeier
Illustrated by Raina Telgemier
Reviewed by Camryn M. (age 10)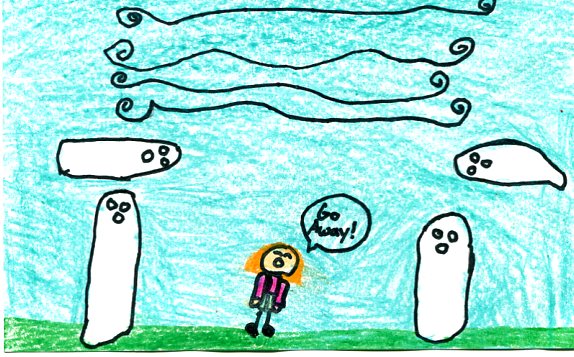 Ghosts, by Raina Telgemier is a book about a girl that is scared of ghosts. A few months later, Raina goes trick or treating with her friends and sees a ghost behind her. A few days ago her sister couldn't breathe because ghosts were surrounding her. Raina remembers that and says " Go away!" They go to the party and see a bunch of ghosts. She isn't really that scared anymore. She wished Maya was there. But, she wasn't because she was healing. Will Maya get better?
I think this story was very cool because it had ghosts in it. One of the characters in the book was a girl name Raina. In my opinion she was brave because she helped her sister when she was in trouble. One of the illustrations was a feast. It is a picture of them looking at the food on the table. Then Raina got home and saw Maya they smelled something tasty. I loved the illustrations because it was very detailed. This story reminds me of the story Smile because It had drama in it and this has drama in it, also. I think drama is annoying because you yell and yelling makes me sad.
Yes, I think other kids should read this book because a lot of kids like comic books. This is a comic book and it has 237 pages. I think Gabbie and Scarlett should read this book because they read books that is by the same author as this book. I think kids ages 9 and up should read this because it is a long book. Go online and get this book now!