Stuart Little
Written by E.B. White
Illustrated by Garth Williams
Reviewed by JJ O. (age 9)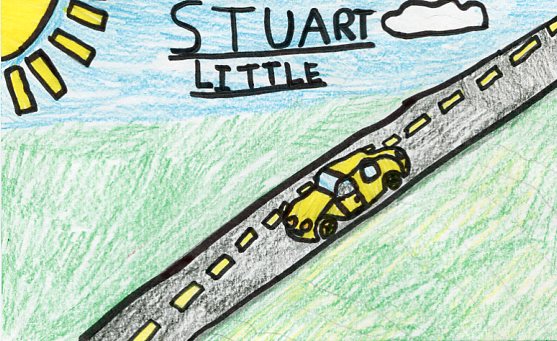 He's one small mouse on one very big adventure! Born in a family of humans, Stuart Little lives in New York City with his parents, his older brother George, and Snowbell the cat. Even though he is shy and thoughtful, he's a true lover adventure. Stuart's greatest adventure comes when his best friend Margalo, disappears from her nest. Determined to track her down, Stuart ventures away from home for the very first time. But will he find her?
In my opinion I thought this book was interesting. I think this because on Stuart's adventure he did so many things and he met so many people. This book reminded me of my Grandma. She introduced me to Stuart Little. My favorite part was when Stuart was with his friend Dr. Carey saying goodbye. Dr. Carey gave Stuart a small working yellow car that was just Stuart size. Dr. Carey told Stuart there was a button on the car that made it invisible. When Stewart pressed the button, it worked but when he tried to turn it off, he accidentally started the car, and it was invisible. From my point of view this book takes the reader on adventures with a twist of humor.
I loved the book Stuart Little. I think kids from ages 8 and older should read this book. I think that because it is very interesting, and you never know what will happen to Stuart on his adventure. This book has 131 pages and one page about the author. If I, were you, I would be in the library reading Stuart Little.