Out of my Mind
Written by Sharon Draper
Reviewed by Hannah S. (age 10)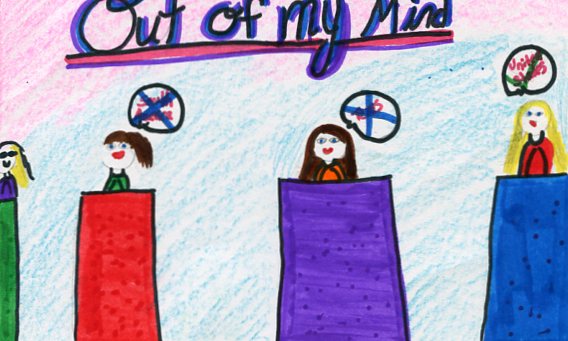 Have you ever heard of a disability called mute? The main character in this book is melody and she is mute. That means she can't talk. Melody signed up to be on the Whiz Kida Team, but it is in Washington DC and... HER TEAMATES LEFT HER AT THE AIRPOT!!!! Will Melody and her parents drive to Washington DC or will she have to forfeit?
I really like this book because it made me visualize a lot of things. Also, when I wanted to stop reading I couldn't because I wanted to find out what melody was going to do. Another reason why I like this book was because it seems like it is going to go as planned, but then it has a twist that no one sees coming.
I would recommend this book to kids ages 7 and up. I recommend this book because I thought it was a spectacular book because it teaches people to never give up. For example, Melody never gave up until she found something to help her talk. This book has 295 pages but all of them included important details about the story. This book is very fun to read, and This is why I recommend the book Out of my Mind.