Descendants: Junior Novel
Written by Rico Green
Reviewed by Stella C. (age 8)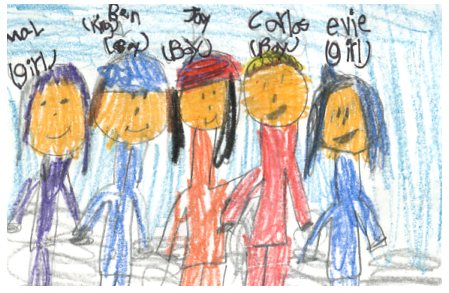 Mal, daughter of Maleficent is a good princess dating king Ben. She is a good princess now. Some characters are Evie, the Evil Queen's daughter, Jay, Jafar's son, Lonnie, the daughter of Mulan and Carlos De Vil is Cruella De Vil's!The core four are nice now. Mal, king Ben's girlfriend is now having trouble running away from the cameras. She goes to the Isle of the Lost where the villains were trapped by the old king beast. Mal's friends go to the Isle of the Lost to get Mal but bad Uma daughter of Ursula captures Ben. Mal, Evie, Jay, Carlos and Lonnie go to get him and give Uma the fairy godmother's wand to Uma. Read the book to see what happens next.
I like this book because it is not a pink, polished, princess book but it is a book about royalty and fighting to get the King of Au Radon. I like the details in the book Descendants 2. It is also a movie, but read the book and then watch the movie. It's very interesting.
Seven years old and up should read this book because it is scary at times and I am eight. Six years old and under will not understand much. Anyway, there are some weird parts I don't even understand so much. I recommend this book to people that like fairy tales, problems, cliffhangers and scary themes. You should read the first descendants book before you read this one.