When Life Gives You O.J.
Written by Erica Perl
Reviewed by Allyson T. (age 9)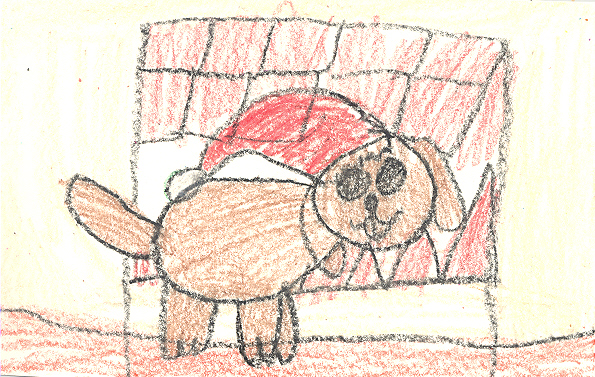 When life gives you lemons, you make lemonade. What do you do when life gives you O.J.? In this book, When Life Gives You O.J.," the author, Erica S. Perl, writes an imaginative story.
This book is about a girl named Zelly and her weird Grandpa named Ace. Ace makes a weird plan to help the girl get a real dog, even though she was sure that his plan wouldn't work. She has been asking her parents for a dog for a really long time and they keep saying no. Grandpa Ace makes Zelly a practice dog out of an old orange juice jug, aka O.J. To make it look like a dog, Zelly colored the jug with markers to have spots, eyes, a smile and ears. She didn't have to draw a nose, because that was the cap of the jug. To prove that she could take care of a real dog, she had to take care of O.J. She had to open O.J.'s nose/mouth, put in wet dog food to feed him, walk/drag him three times a day, and when she walks him, she always goes to a dead-end street near her house and opens the nose and pours out the wet dog food so it will be like he's pooping. Through all of her time with O.J., Zelly learns about taking care of something important.
I have an opinion on the book and favorite characters that I read about. I like this book, because many times in the book, things get turned around and go the wrong way, which is cool because they always find a way to fix it, One character that I thought was interesting was O.J., because I would have never thought that you could make a practice dog out of an orange juice jug. Another character that I thought was interesting was Ace. He was interesting, because on his door he always had a sign that said, "Has Gone Fishing". I thought that was interesting, because I realized he didn't want anyone to come in. One character that changed the book was Zelly. She changed in many ways. One way she changed was that she learned how to take care of her practice dog to get a real dog. She also stopped being mean to Ace.
I recommend this book. The book would be good for ages 6-13. Someone that likes animals or has a dog of their own would really like this book. If someone wants to get a dog, this book will give them a good idea of how to take care of a dog and something they can suggest to their parents.