I Am Too Absolutely Small For School
Written by Lauren Child
Illustrated by Lauren Child
Reviewed by Kate A. (age 5)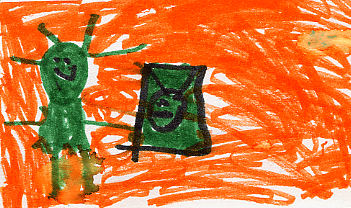 Lola thinks she is too small for school because she doesn't want to go to school. He brother Charlie already goes to school. I think Lola is scared to go to school because she's nervous to see her new teacher. She doesn't want to learn new things because she thinks that she already knows is enough. She is also worried she will not be able to learn new things. I wonder what will happen to her!
I liked the book because she didn't want to go to school. My favorite part of the book was when she didn't want to learn the letters because I don't like to learn the letters. I liked the illustrations in the book because I like how the illustrator drew the people.
I think you should read this book because it has an invisible friend that you can see. I think kids in preschool would like this book because it's about a kid that's in preschool.