David Goes to School
Written by David Shannon
Illustrated by David Shannon
Reviewed by Cailah E. (age 7) & Pricilla V. (age 7)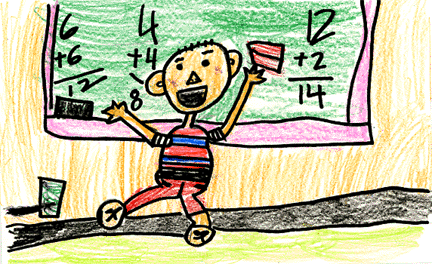 The story is about a bad boy named David. He doesn't follow any of the rules when he is at school. He gets in a lot of trouble.
He doesn't follow any of the rules. He's tardy. He doesn't line up. He doesn't raise his hand. He has to stay after school and clean all the desks. He finally does something right at the end of the day and he gets a gold star. The pictures are the best part of the story. They are so colorful and funny. The pictures look like they were painted with water colors. The book reminds us of some of the students in our class. Some of them have a hard time following directions and they miss recess and have to turn a card. Some days they have better behavior and get a green card. It's kind of like David getting a star at the end of the day.
If you need help following rules you should read this book. The pictures are neat. It is a fun book to look at and read.