Ballet Shoes
Written by Noel Streatfield
Reviewed by Taylor S. (age 11)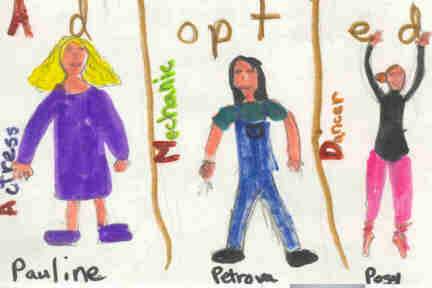 The moment I opened the book I was interested. It's neat because it talks about girls trying to fulfill their dreams. The book started when Matthew,also called Grun, was exploring. On each of his three voyages across the sea, he brought a baby girl with him. The girls named Pauline, Petrova and Posy were all left alone by their parents. The three girls were adopted by Grun and Sylvia, his great neice, who raised them. Soon Grun had to go on a long expedition. So, he arranged for the bank to take care of the girls for the next five years. Except the money runs out.
Soon Sylvia takes in boarders. One of the boarders is a dance teacher and sees potential in the girls. She gives them a scholarship to an art school. However, Petrova is not into dancing or art and has a hard time making the decision to go. They vow to make their name famous.
This book is a class one book. If you are interested in acting or dancing, this is a book you need to read. My favorite part is when Pauline lets being a lead in a play go to her head. I like this part because it teaches Pauline that everything doesn't always turn out the way you want it to. My favorite character is Posy. I like this character because she is a good dancer. Sometimes she can't stop herself. She always wants to dance. Posy reminds me of myself because I love to dance and I can't imagine quitting, EVER. While I was reading I was always wondering if their vow came true because it means so much to them. Read it yourself to find out their fate.
I loved this book. I think you should try it. Especially, if you are interested in dancing and art.