Leo the Lop
Written by Stephen Cosgrove
Illustrated by Robin James
Reviewed by LaShunda M. (age 10)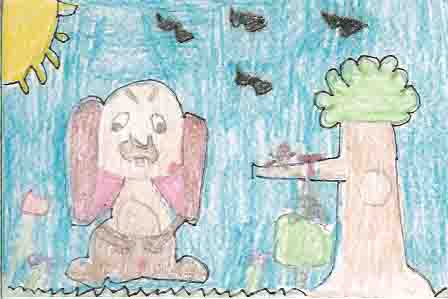 In the beginning of this story the rabbits were teasing Leo the Lop because his ears were not straight. Next, Leo the Lop began hanging upside down from a tree to make his ears go up. Leo was talking to a possum and the possum said that his ears really were not different. Last Leo came down from the tree and said to his friend, "I am just like the rest of the rabbits. I am not different." Will the other rabbits ever stop talking about Leo?
I felt good as I read this book. It was enjoyable to read about the possum hanging from a tree. I felt happy that the other rabbits stopped teasing him. It was funny when Leo the Lop's ears went down. I enjoyed the illustrations in the story because they were bright pictures. The drawings had a lot of details and I really liked the bushes and the trees. The illustrator was very creative and the drawings were not sloppy or messy. My favorite part of this book was when the animals were laughing about Leo's ears being down. I would not have wanted to be Leo in the book. This part taught me a lesson.
I would recommend this book to anybody because my book is about how you're special because you're you. When you read this book, it will teach you a lesson not to be mean and unkind to people. I would recommend it to nice and kind children.