Thanksgiving At The Tappletons'
Written by Eileen Spinelli
Illustrated by Maryann Cocca-Leffler
Reviewed by Mai W. (age 7) & Lior S. (age 8)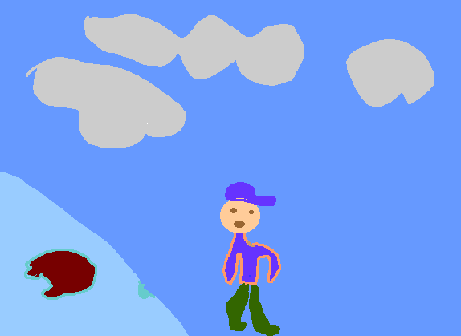 Thanksgiving at the Tappletons' was always a big day. Every one in the Tappleton family had a job to do preparing the Thanksgiving meal. Mom was supposed to prepared the turkey, Dad had to get the pies, Jenny had to make the mashed potatoes, and Kenny had to make the salad. Mom was about to put the turkey in the oven and then the milk man came. When she opened the kitchen door, the Thanksgiving turkey slipped out of her hands and slide down the hill into the pond . . . "plop splash it bubbled out of sight." Dad, Kenny and Jenny had problems with their part of the meal too! They were afraid to tell each other about the problems they had. When the whole family gathered around the table, there was no food. They looked at the empty table. Grandma said the prayer. "Turkey's come and turkey's go and trimmings can be lost we know but were together that's what matters not what's served upon the platters."
I (Lior) liked the book because the author described how Kenny lost the salad and Mr. Tapleton lost the pies and Mrs. Tappleton lost the turkey. It is funny how they make mistakes and try to hide them. I liked the illustrations because they are colorful and they have detailed backgrounds. I (Mai) liked the book because the illustrations were fantastic. They went well with the writing. The story reminded me of how I sometimes make mistakes when I'm not sure of what to do. I thought it was an excellent book. My favorite part was when the whole Tappleton family looked at the empty table. It was funny. They were all surprised when there was no food for the dinner. The story makes me think about celebrating the holidays with my family.
We recommend this book to all ages because it is funny how there is no food and the whole family looks at the empty table. We also like the writing because it was easy to read and the illustrations are nice because they match the writing. The book teaches you that it is more important to be together as a family than eating the food.