A Fine, Fine School
Written by Sharon Creech
Illustrated by Harry Bliss
Reviewed by Jaclyn K. (age 8) & Daisy P. (age 8)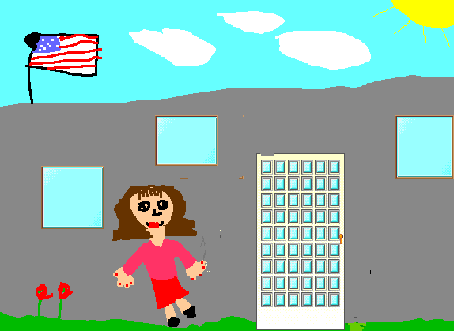 A Fine, Fine School is about a girl named Tiley and her principal named Mr. Keene. Mr. Keene loved his school so much that he wanted the students and teachers to go to school more often. First, he opened the school on Saturdays and Sundays. The students and teachers were upset that they had to go to school on the weekends but they didn't want to tell Mr. Keene because he was so proud of the children and teachers. Soon, Mr. Keene had the children going to school on the holidays. Tiley was upset because everyone was not learning. Read to find out who wasn't learning and what happened next.
This story is special because Tiley acts responsible and is brave by standing up to Mr. Keene. Would most kids be like Tiley? The illustrations were colorful and very funny especially the pages with Beans the dog doing "human" things. It was fun to find all the picture of Beans.
We recommend this great book to people of all ages because it is funny. People who like school and dogs would especially like this book.