Hiccups for Elephant
Written by James Preller
Illustrated by Hans Wilhelm
Reviewed by Justin T. (age 7)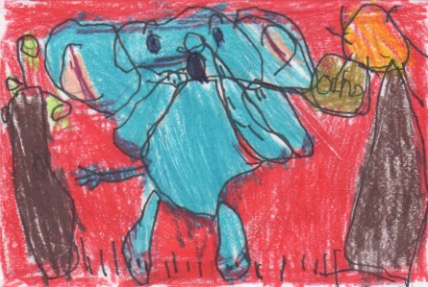 "Hiccup!" "Hiccup!" This book is about an elephant that gets the hiccups and wakes up the other animals that are his friends and they try to cure the hiccups, but it doesn't do it. They tell him to drink a lot of water really fast. They tell him to hold his breath and count to ten. They tell him to stand on his head and eat a banana. Do you think any of them will work or will Elephant still have the hiccups? Read the book to find out.
My favorite part was when Elephant got the hiccups because it's funny. He wakes up everybody. This reminds me of when I wake up my sister. I don't mean to. I liked the story because Elephant got the hiccups and I liked when he got the hiccups. I liked when one of them told Elephant to drink lots of water really fast.
I recommend this book to people that like funny books. I think the funniest part was when he wakes up all the animals. You may like this book if you like to laugh.