A House for Hermit Crab
Written by Eric Carle
Illustrated by Eric Carle
Reviewed by E.C.M. (age 8)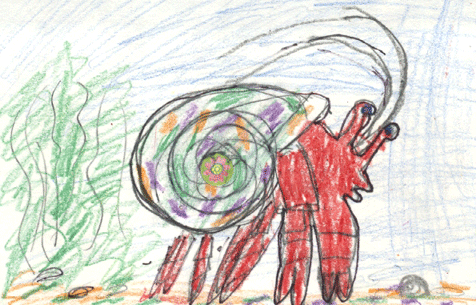 Can you imagine if every time you grew a little you had to find a new home? This book is about a hermit crab that needs to find a shell because he grew out of his old one. He found a shell in some sea weed and he thought it was too plain of a shell so he asked animals to go on his shell. Every year he goes around putting things on his shell. For example, he asks a sea anemone to live on his shell. At the end he gives his shell away to a hermit crab that is looking for a shell.
I liked this book because he has grown out of his shell and he is trying to find another one. My favorite part of the book is when he asked the fish to light up his house. I like this part because I think the fish were brave to go with the crab. The illustrations are colorful cut outs and fun to look at while you read.
I recommend this book to kids that like to travel places and like to collect things because the hermit crab travels lots of places and puts new things on his shell like a star fish and he makes a lot of new friends.