I Wish My Brother Was a Dog
Written by Carol Diggory Shields
Illustrated by Paul Meisel
Reviewed by Jason L. (age 7)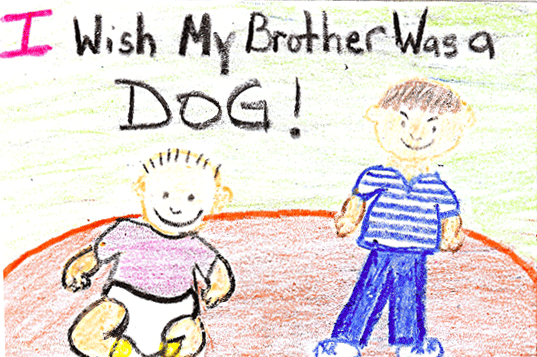 The story begins with a boy telling his baby brother, "I wish you were a dog." The baby brother's name is Andy. The big brother continues to tell Andy all the things he would do if he was a dog. One of the thing he would do is buy him some chew toys and a bouncy ball, so Andy would not play with his toy again. Also, he tells Andy that he could sleep outside, so they would not have to listen to him cry at night. There are many other things that he would do if Andy was a dog. The one I like best is when he told Andy that he would put him in a dog show and sell him. In the end, the big brother realizes how lonely he would be if he did not have his baby brother, Andy, around. He tells Andy that he will keep him and take good care of him too.
I think this book is right on. I have a younger brother and, sometimes I wish he was a dog (don't tell my mom). Some days I would like to be an only child, and other days I like having my younger brother around to play with. That is why I enjoy reading this book over and over again. I have even read it to my younger brother. The pictures in this book are so funny. They make me laugh every time I see them. My favorite picture is the one of Andy as a watch dog.
"I Wish My Bother Was a Dog" is a super book. I love reading it, and I know other will too.