The Boxcar Children
Written by Gertrude Chandler Warner
Illustrated by Likate Deal
Reviewed by Shreya P. (age 8)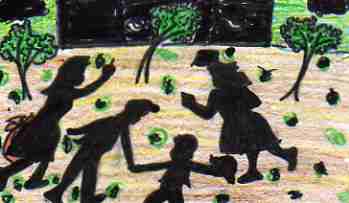 Four dreary orphans run away from home when their parents pass away. Their names are Henry, Jessie, Violet and Benny. This fantastic book tells about their adventures in the woods where they use an old boxcar as a home. They should be staying with their grandfather, whom the siblings do not know. Thinking their grandfather is mean, they stay by themselves and fall into many adventures including a hurt dog, a race and a dump. Read this book to find out how their grandfather really is and what they are doing in the end.
When I first read this book, I felt sad for the lonely children who had lost their parents. They seemed scared but brave as they ate their meager meals and attempted to work for money. I liked this book because it was not like the other books in the Boxcar Children series. It was like an introduction to the life of the Alden siblings. The two things that absolutely hooked me to this fabulous piece of writing were that it was not a mystery and that the illustrations were outlines which required me to imagine the looks, feelings and expressions rather than already being shown. I adored this book and have read it at least five times.
I would recommend this book to anyone ages 7-11 who likes funny and sad stories. Most kids in this age group like stories about kids their age and they will find this in this book. Anyone over 11 will be bored, however, and may feel the story is a little silly. I loved this book and it is great. The thing that interested me most is that the author's writing style is great.