The Saddle Club: Horse Crazy
Written by Bonnie Bryant
Reviewed by Julia H. (age 8)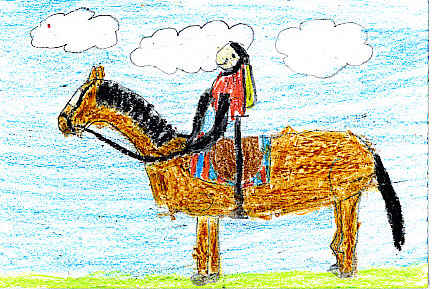 In Horse Crazy, Lisa, a new kid has her first ride on a horse, Patch a gentle pinto who normally you could trust with a 2 year-old. Patch is afraid of loud noises. Lisa is having a nice ride on Patch when mean Veronica DiAngelo slams the door, and Patch takes off! He gallops around the ring! Lisa stayed on! Eventually Lisa even controls Patch!
Horse Crazy has a very, very good plot because it is really exciting, especially when Patch takes off. The descriptions make you feel like you are in the book. Horse Crazy even has a very accurate description of a barn.
This book would be a very good book for horse crazy kids and kids who are trying to learn how to ride because as Carol taught Lisa, kids can also learn how to control a horse. It sure helped me! If you want to watch The Saddle Club, you can! It's on from 7:30 – 8:00 p.m. on PBS kids (it's not always Horse Crazy).