The Art Lesson
Written by Tomie dePaola
Illustrated by Tomie dePaola
Reviewed by Isabel W. (age 8)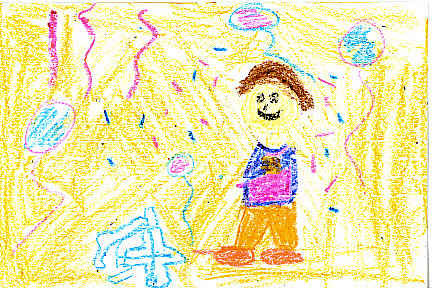 The Art Lesson, by Tomie dePaola, is about a boy named Tommy and he wants to be an artist when he grows up. When Tommy goes to first grade he gets mad at the art teacher because she said to copy her and draw a picture. Tommy thought that real artists draw and paint the picture and do not copy them, so Tommy got really mad at the art teacher.
I think this book is a great book for young readers. The Art Lesson teaches people that you don't have to copy other people's work. In the book, Tommy decided to draw something that he wanted to draw and not just copy the teacher. This book tells young readers they can do what you want without listening to what other people tell you to do.
I recommend this book to young readers, ages three and up, especially in grades kindergarten to third. My sister is in kindergarten and she likes books like this. I enjoyed the book too and I'm in third grade. I give this book three stars!