Magic Tree House: Dinosaurs Before Dark
Written by Mary Pope Osborn
Illustrated by Sal Murdocca
Reviewed by Wim P. (age 9)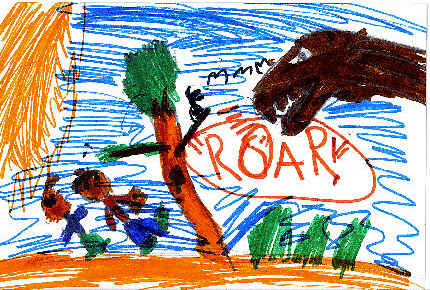 This book is about two kids that find a tree house and it's magical and has lots of books in it. They can teleport anywhere! All they have to do is point to a book and wish to go there and they'll go there. They wanted to see a dinosaur, at least one of them!
There's one little personal connection that I have to this book, and that is that they have lots of books in the tree house and let me tell you something, I probably have over one million books at my house. That was an exaggeration that I have "over one million books at my house" but I have a lot! My opinion is that the book deserves ten stars out of ten stars!
I would recommend this book to readers that love action and adventure. This book is similar to The Time Warp Trio because the people in the time warp trio can time warp too! This book is completely adventurous and action packed. It's great for independent reading in school or at home!