Elmer
Written by Dan Greenburg
Reviewed by Rayan G. (age 6)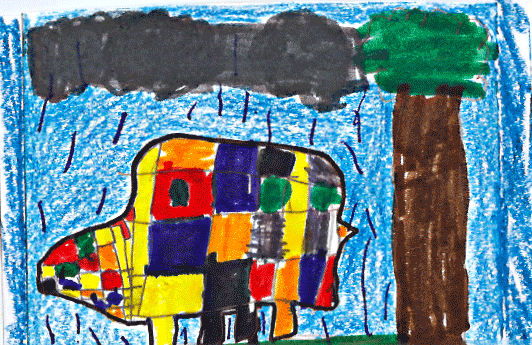 There is a group of elephants- fat, tall, small, sad-any kind of elephant. Elmer the elephant is the really colorful elephant. The elephants laugh at Elmer. Then Elmer tip toes away. He rolls himself inside a bush that is gray. Elmer returns to the herd and they were quiet. Elmer sees a big gray cloud. After rain started to fall, it washed the gray juice (off Elmer). The elephants started to laugh.
I give this book a thumbs up because I like when the juice washed away and showed that Elmer was hiding. It was funny that they found out Elmer was still here and they didn't know he was there because the elephants didn't see his color.
Other kids would like the end where the elephants are colorful and one elephant, Elmer, is gray. Other kids will think one elephant didn't change.