The Golden Goblet
Written by Eloise Jarvis McGraw
Illustrated by N/A
Reviewed by Ryan L. (age 10)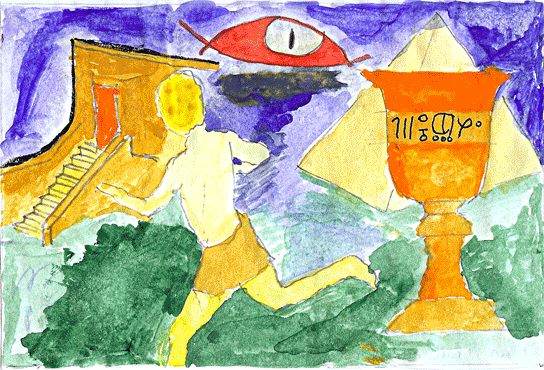 Ranofer was a 12 year old boy who had developed good skills as a goldsmith from his father. Also, Ranofer's father had taught him the differences between right and wrong. When Ranofer's father died he was forced to live with his half brother Gebu. Gebu was an evil stonecutter and was secretly engaged in robbing and steeling of the worst sort. His treatment to Ranofer was cruel and abusive. Ranofer suffered beatings, meager lodging, and was given little food and forced to steal for Gebu without even knowing. Rather than cave-in and become a victim, the memory of his father's teachings gives him the hope needed under the harsh care of Gebu. The clues of Gebu's secret meetings are enough to raise suspicion in Ranofer's mind and he resolves himself to learn the mystery. Ranofer develops several close friendships with Heqet, who is a boy his age, and the Ancient, who helps guide Ranofer's discoveries. Ranofer takes great risk to pursue clues left behind by Gebu and discovers that he is a "tomb robber," the most ugly of all thieves. Ranofer foils Gebu's plan, is rewarded by the Queen of Egypt, and freed. The Queen gives him his dream to work under Zau, the master goldsmith, and the best donkey in all the kingdom.
I like Ranofer because he remains faithful and loyal to his father's teaching and has dreams of becoming a goldsmith. Becoming a stonecutter would ruin Ranofer's hands and he would not be able to work with good detail needed to create fine gold jewelry. Instead of giving up he resolved himself to change his circumstances. Ranofer stayed strong under hardship. Ranofer needed guidance in right and wrong and both the memory of his father's integrity and his close relationship with the wise man called "Ancient,' help build his moral character. He hated being forced into stealing for Gebu and resolved himself to change the situation. Lastly, I like the story because it was very exciting. Ranofer is always taking great risks to discover clues about those using him for their personal gain.
I recommend this book for those who like adventure while experiencing hard circumstances, which you cannot control. Ranofer is an example of holding on to your dreams, though the situation seems almost unbearable, and remaining loyal to the wisdom of those whom influenced you in the past. I recommend this book for those interested in critical thinking. Ranofer pays close attention to details like the weight of the gold shavings and the language markings on the golden goblet. By critically analyzing these details and the motives of those around him the clues emerge that lead to major discoveries that change Ranofer's destiny.