Cloudy with a Chance of Meatballs
Written by Judy Barrett
Illustrated by Ron Barrett
Reviewed by Tyrrell M. (age 8)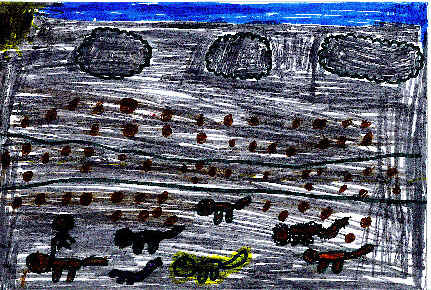 This is a book about a family and their names are Mom, Grandpa, Sister, and Henry in a town named Chewandswallow. In this town they get food three times a day, breakfast, lunch, and dinner from the sky. In the town Chewandswallow they get pancakes, syrup, juice, and milk for breakfast. Everyday the sanitation department cleans up the sidewalk and the street. Sometimes the food is too big that it starts to flood! To find out more, you can go to your bookstore or your library and read this book!
I think this was a funny book because the dogs and the cats have to wait to cross the street while the Sanitation Department cleans up the road. This reminds me of a time when a chip flew in the air and I said "It is raining chips!" My favorite part is when everyone has to go outside with their forks, spoons, plates, knives and napkins so they can catch their food while they're walking or driving somewhere. It was funny because you don't usually walk outside with a fork or a plate.
This is a very funny and interesting book. I recommend this book to kids who like to read about the weather. You can see how the weather is different from ours!