The Hungry Thing
Written by Jan Slepian
Illustrated by Richard E. Martin
Reviewed by Ayden A. (age 8)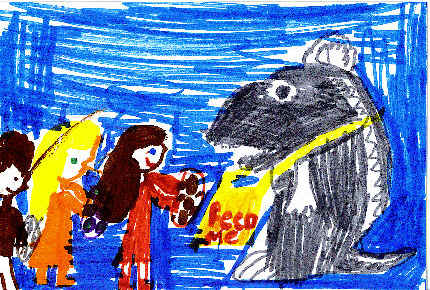 The Hungry Thing is about a thing that comes to a small town and speaks a language that no one knows but a little boy! This hungry thing is asking for so much food and the towns people don't even know what he or she is saying! Somehow they manage to feed him or her. Will this thing ever stop eating???
This book reminds me of the time when I was really hungry and I kept asking for more food. I know when people are hungry they can get really cranky. Usually when people have food their mouth other people can not hear what they are saying. My favorite part was when the guy said that there was a special kind of toy that you can eat and then the boy corrected him because I'd like to eat toys that were made out of candy, too! I really like the way the Hungry Thing talks. He uses funny, nonsense words that only the little boy understands and lots of rhymes.
I recommend this book for people that want to have a good laugh. This book is also good for parents and their little girls and boys who are learning how to speak. The illustrations are really good, too.