Alexander and the Terrible, Horrible, No Good, Very Bad Day
Written by Judith Viorst
Illustrated by Ray Cruz
Reviewed by Jack C. (age 8)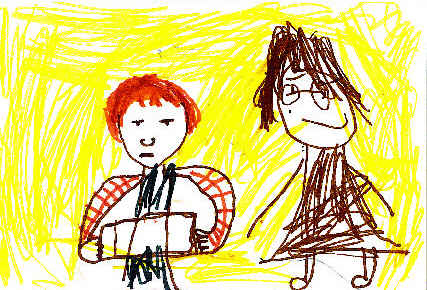 This book is called Alexander and the Terrible, Horrible, No Good, Very Bad Day, by Judith Viorst. This book is about Alexander and he has a bad day. Like when he left his sweater in the sink while the water was running and like when he did not get a toy in his cereal like Anthony and Nick did. Also when he got a cavity and his brothers did not. It felt like a bad day but it might be a good day tomorrow.
I felt like I had a bad day like Alexander when I dropped my sweater in some place that was wet. That made me have a really bad day too. I thought it was really funny when Alexander showed his picture of an invisible castle and his friend had a really good picture of a boat. It was funny because Alexander just had a blank piece of paper and he said it was a picture.
I recommend this book to kids that had a bad day because it can cheer them up and tell them that they're not the only one that had a bad day. I give this book four stars because it is a funny book for us to read, but not for Alexander!