Amelia Bedelia and the Surprise Shower
Written by Peggy Parish
Illustrated by Fritz Siezel
Reviewed by Aliana S. (age 8)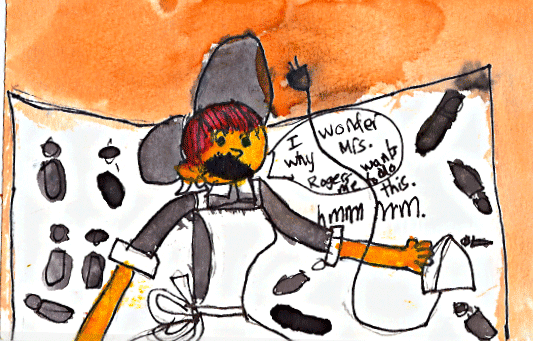 Have you ever heard of a person who has put chocolate icing on raw, non-scaled fish and measured them on a scale? Well, Amelia Bedelia has done all those things and tons more! Amelia Bedelia is a maid who works for Mr. and Mrs. Rogers. She is the wackiest character I have ever read about. She's hilarious!!! First, Mr. Rogers gave Amelia Bedelia some fish and said, "Please scale them and ice them." So Amelia Bedelia took them and measured them on a scale. Next, she iced them with chocolate icing! EWWWW! This is why I love Peggy Parish –She's disgustingly funny! Next, Mrs. Rogers tells her to run over the tablecloth with an iron, so Amelia Bedila runs over it (with her legs) with an iron in her hand. Will Amelia Bedelia keep her job or will Mrs. Rogers fire her for all the things she's gotten confused about? To find out, you'll have to read!
I liked Amelia Bedelia and the Surprise Shower because Peggy Parish is such a funny author. One time, Amelia Bedelia made sponge cake out of REAL (and I mean REAL) sponge. I had a really good image in my mind. Amelia Bedelia reminds me of Grandpa. (In Grandpa Comes to Visit by Rob Lewis.) He does everything wrong too. Once Grandpa made a discusting omelet with French fries in it. I wouldn't want Amelia Bedelia as my maid because she does everything wrong, so your house would never get cleaned.
Have you ever met someone who does the opposite of whatever his or her bosses tells them to do? Amelia Bedelia does everything wrong but she thinks she is doing a great job. Amelia Bedelia doesn't get the expressions that her bosses put in the lists of things she has to do. I recommend this book to people who like funny characters that don't understand anything. If you like the story "Grandpa at the Beach" and/or "Grandpa Comes to Visit" then you'll definitely like the series Amelia Bedelia!