Horrible Harry and the Drop of Doom
Written by Suzy Kline
Illustrated by Frank remkiewicz
Reviewed by Alexander C. (age 7)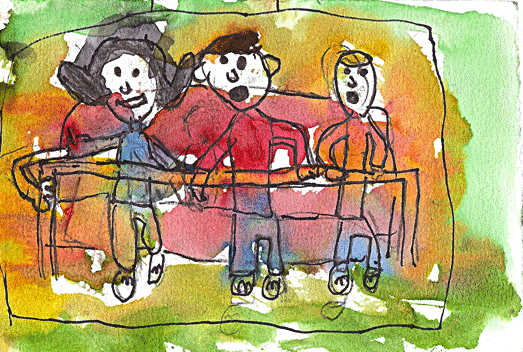 Horrible Harry really isn't that horrible he just does disgusting stuff like make slime. You may think Harry is the narrator but he's not, his friend Doug is. Now it is time for the story. It begins when school is almost over for the year. Harry and his friends get invited to an end of the year party by Song Lee. Harry bets himself to go on a scary ride called "The Drop of Doom". But he doesn't know it's an elevator and he is scared of elevators. When they got to Mountain Side Park where the party was they went on The Drop of Doom. They got on the elevator it went up 13 floors. Boom! The cable broke. The elevator fell down 13 floors! Will Horrible Harry survive? Will Horrible Harry go on another elevator in his life? I guess you have to read the book and find out!
I liked Horrible Harry and the Drop of Doom because I thought it was funny when Sidney pretended to eat Harry's knee and pretended it was a chicken leg! I can imagine that happening in my mind really well. I can imagine it even better if it really was a chicken leg! Harry is my favorite character because he's in love with Song Lee also because he once poured the water from Song Lee's ice bucket down Sidney's back! I would want to be his friend because I like gross things too. But I don't want to do things like him because he once stayed after school.
Are you a kind of person that likes slimy things or insects? IF so, you should really read this book. Because Harry sure does! It even says that in the book! It says: "He loves creepy things, slimy things, anything horrible." If this sounds fantastic to you, you should read this book.