The Zack Files - Never Trust a Cat Who Wears Earrings
Written by Dan Greenburg
Reviewed by Jack G. (age 7)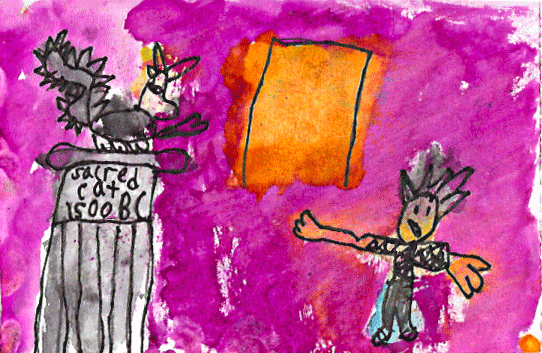 If you want to read a book with many adventures, read The Zack Files. Zack has so many adventures. He is only 10 years old. His mom and dad are divorced. Zack lives with his dad. In every book something weird happens. In this book, Zack and his class went on a field trip to a museum. Zack walked away from his group and found himself in a room with a woman in it. He turned around, then back. The woman was gone, but a cat was there! It scratched Zack! The next day Zack was turning into a cat! Will he save himself? You will find out if you read this book.
In The Zack Files: Never Trust a Cat Who Never Wears Earrings, my favorite part was when Zack was playing with a ball of yarn. It's funny because kids don't do that. He looked silly! Zack was ridiculous! When Zack found out he was turning into a cat he was amazed with excitement. He is like Katie Kazoo. They both have crazy adventures and they always have a crazy solution.
Do you have crazy adventures? Then you should read this book. Zack has even crazier adventures. Even if you don't have crazy adventures read this book. One of the adventures was when Zack got trapped in a museum and everything came to life. Dan Greenburg makes the adventures funny and weird by having such a good imagination. It is my favorite chapter book! It should be yours, too!