The Winter of the Ice Wizard
Written by Mary Pope Osborne
Reviewed by Hannah H. (age 9)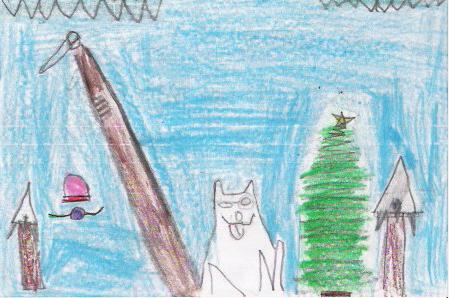 This story is about Jack and Annie. Jack and Annie are baking Christmas cookies with their mom. Jack and Annie asked their mom to see if they could go outside. Their mom said yes. Jack and Annie went outside to their tree house. Jack and Annie saw someone walking to their tree house. When Jack and Annie got to the tree house they found a rock as a note. Jack and Annie went to the Ice Wizard to help him find his eye.
I like the book because it seemed interesting. The story was interesting because it took place at an ice castle. My favorite part of the book was when Jack and Annie found the Ice Wizard's eye. I liked Annie because she always wants to help Jack. There is nothing in this story that reminds me of something. This book is part of a series. It is similar to the other books because they are all about solving a mystery.
I would recommend this book to you because kids like mysteries. I think a reader that likes adventures would like this book. The pictures seem interesting to me because they told me about the story.