The Secret of Pooduck Island
Written by Alfred Noyes
Illustrated by Flora Nash DeMuth
Reviewed by Troy P. (age 10)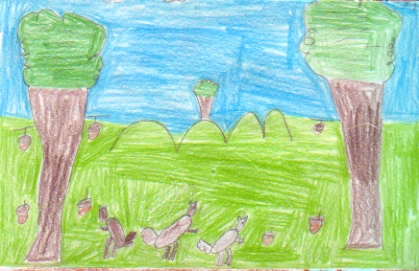 The Secret of Pooduck Island is about five squirrels who sneak into a log cabin. They live in the log cabin when the owner is away. The owner of a cabin near Blink Bonnie tells Willard Wall to shoot any squirrels who come near it. Willard Wall would get a nickel and a half for every squirrel he shot. Solo comes with Mr. Squirrel. Willard Wall shot Mr. Squirrel in the leg with an air gun. Solo is their friend who lives in town. Everybody in town thinks Solo is a queer boy. When Mr. Squirrel is almost better, they meet the Great Porcupine. He tells them to stay away from his area when they pick up acorns. The squirrels went exploring and they got to their house. They are attacked by The Butcher-bird, a skunk, and the Chief Weasel. What will happen to the squirrels? Read the book to find out.
I think this is a good book to read because you learn a lesson. You should stay away from someone that wants to hurt you.
My favorite characters are Ruff and Grandfather Grizzle. They go and do crazy things and cause trouble. One of the crazy things is when Grandfather Grizzle formed an army of ants. Another is when Ruff argues with The Great Porcupine and gets taken to another island.
Ruff reminds me of myself. We both like to follow people and see what they do. Ruff follows The Great Porcupine to find out what he is doing and who he is going to talk to.
I felt glad that the squirrels got out of trouble. I wonder how the squirrels survive after all those daring adventures.
I would recommend this book to third graders to seventh graders. They would like reading about the adventures of the family of squirrels.